I just returned from the New Jersey RWA's Put Your Heart in a Book Conference. It was my first romance-related conference and I signed up to participate in the Book Fair. The problem was, all my branding was related to my Young Adult Fantasy release from a few years back. Did I really need to buy the custom table cover, bookmarks, business cards, and other swag again?
I was short on time and quite frankly on a tight budget. I thought I'd share with you my low-budget ideas that not only got my branding across but received compliments as well.
Business cards
Every author should have something printed to give out to readers and fellow authors that lists their name, slogan/branding, social media info and blog/website URL. I like to stick with business cards for general branding, and bookmarks for specific books. For this latest conference, I focused on business cards. These were my only customized items that I ordered ahead of time.

I like to set my cards apart from the ordinary, since they're one of the biggest expenses. I added glittery bows to a dozen of them to display on the table that cost me $1 and about five minutes of time to attach. I bought a smaller batch of cards this go around—don't feel compelled to buy 1000 cards since you only have to pay a few dollars more. If you end up not liking them, changing your info, or wanting something different you'll regret having all those boxes of unwanted cards. Also, try to print your cards during a sale. Vistaprint and most others have scheduled sales on business cards (which I unfortunately missed with my timing).
Cost: $30 cards + $1 set of bows
Table Cover
I skipped personalizing a table cover, since I have yet to design a logo and did not have the time to whip one together. Instead, I opted to go with the theme of my books that I was selling—Christmas. I found a shimmery table runner at Marshall's that would provide more than enough coverage for a half table. I could use it again anytime I sold Christmas Catch or Chicken Soup for the Soul: It's Beginning to Look a Lot Like Christmas, or even in my house during the holidays!
Cost: $8
Swag
I had enough experience at several YA conferences to know conference-goers like swag. Again I didn't personalize but stuck with my theme. Beyond my unique business cards, I also gave away Christmas pencils—another easy dollar store find. Because it was only an hour and a half (as opposed to a full day or two days of signing), I stuck with one package.
Cost: $1
Display Pieces
I didn't want a purely two-dimensional table, with everything lying flat. I wanted to grab the attention of people who walked by. I found a cute Christmas basket (dollar store, I'm telling you if you haven't gotten the picture yet) to display the Chicken Soup books.
Lastly, as I was waiting at the airport for my flight to the conference, I decided to make a slideshow on my Chromebook. Obviously if you don't have a laptop or tablet this would be a large expense, but if you already do have one, this is free and was a game changer. I only made 4 slides, continuously running. My first slide had the conference logo and Golden Leaf Finalist sticker for Christmas Catch. For each of the other slides, I used a stock image and overlaid one sentence from an Amazon or Goodreads review of my book. People stopped to see what I was showing, and ended up reading the reviews. It gave them an immediate sense of the mood and tone of the book, while showing praise from reviewers.
Cost: $0 slide show + $1 basket
Total Cost: $41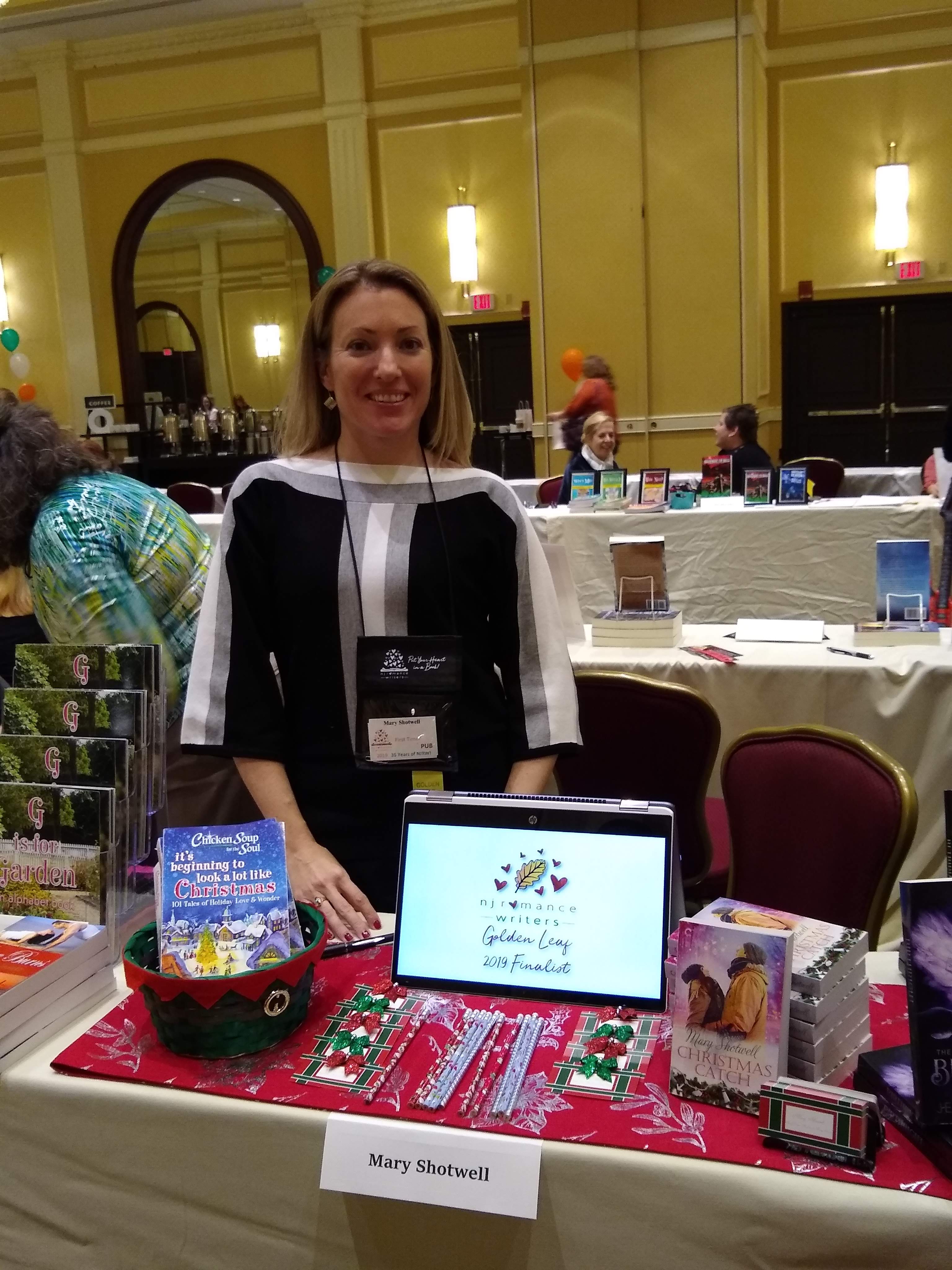 All of these will carry me through my next signing in November, and some can be reused long after that. You don't have to buy everything all at once or need each piece to have your name on it right away. See what works best for you little by little. The most important part is that you wrote a book and are now selling it! Have fun with it and don't lose sight of that accomplishment when you're stressing over sangria or currant font color.