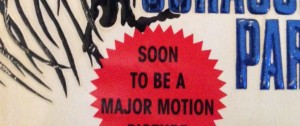 I can honestly say I remember learning to read in the first grade. Mainly because I had five older siblings, yet none would take the time to read to me. That's okay. I don't hold a grudge. They know they're jerks sometimes. It motivated me to REALLY want to learn to read. My mother knew of my interest and bought me books (
Ramona Quimby, Age 8
; read it when I was 7. Yes, a child prodigy.)
     Somewhere along the way, like the cover of that Beverly Cleary book, the passion for books faded. At the start of my year in sixth grade, my eighteen-year-old sister, oldest of the seven children, ran away. When I say that, I mean literally. Left notes for us saying she was done with the family. It hit hard for everyone. I dealt as probably any sixth grader would, by completely shutting down. Became introverted. Closed off. And had few friends.
     The End.
     Just kidding, I wouldn't leave you on such a sour note.
     Then came my science teacher, who had a knack for avoiding science discussions at all, which irritated me as a science lover, but as they say in The South "bless his heart." He recommended a book he was reading, Jurassic Park by Michael Crichton, to the class. I saw it while shopping with my mom, and told her about my teacher's recommendation. She bought it for me. "Soon to be a major motion picture" blazened the cover. I still have it, as you can see by my pic.
     I sat on the floor of my bedroom, leaned up against the bottom bunk that used to be my sister's. And I read. I kept reading. I loved it. I transported to this realistic other world that was so believable, and fun, and science-y (that's the technical term, I believe). I lost myself in it. And I wanted more.
     That initiated my insatiable appetite for Crichton's books. I read them all. I watched all the movies, which started my obsessions with Steven Spielberg and John Williams, but I'll save that for another time. Soon I learned of other students reading Crichton, and it became easier to talk to them and make friends. Losing myself in his fiction helped me find my new self. I know, you'll take some fries and bacon with that cheesiness I just gave you.
     But it's true. The least I could do was dedicate my first book to him. MC will forever hold a place in my history and heart.