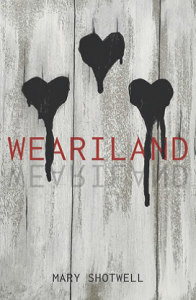 WEARILAND
For fifteen-year-old Lason Davies, it all started with a text.
"HIDING PLACE."
Lason is haunted by the last words of her murdered relative as she and her mother fly to England for the funeral. The crime is a sensation, but the clamoring reporters and news photographers aren't the only ones interested in their arrival.
As Lason copes with the family loss, she encounters a mysterious stranger. He hails from Weariland, a dreary world once known as Wonderland. Lason wants to confide in her mother, whose long-repressed family demons have resurfaced, along with her erratic behavior. Convinced she'll find answers about her grandmother's death, Lason takes the leap to help the stranger,
leaving her world behind.
Lason's mother wakes to find her biggest fear realized—Lason is missing. When the murder investigation turns up traces of unknown black goo and pictures of a giant creature, she believes in her gut something out of the ordinary truly is happening. And it's not the first time a loved one has disappeared.
As her mother confronts the past she so desperately tried to forget, Lason must navigate through an unpredictable realm, encountering colorful, fantastical characters and discovering her family's elusive history. Ultimately, she must rely on her courage to brave it alone when her guide is captured, along with her only chance to ever getting home.
Soft-cover and e-book now available!
If Alice in Wonderland is your favorite classic, Weariland by Mary Shotwell is something that would command your attention…Weariland is a solid work as a 'Carroll' update, one that succeeds in serving a purpose in terms of either deepening or expanding upon the original's plot, characterization, and premise.–Readers' Favorite 5 Star Review
"This darkly whimsical tale is sure to delight readers with it's unique spin on a sequel to a beloved classic…I loved the updated facets of Wonderland in this well-written well-paced story. The twisty bits are unique and enjoyable and will for sure keep you turning the pages." —The Paisley Reader
"Alice In Wonderland, and Through The Looking Glass needed this book to continue the story. I am hungry for more and hoping that there will be a sequel to Weariland in the future."–Spooky Mommy's Reviews